#1: Hey, Hunter-Gatherer!
Why you should not consume content in the moment of discovery, Paradox of Abundance, and a question about Algorithms v/s People.
With this E-Mail, we're kicking off our newsletter program.
I think a lot about how we interact with the streams of content on the internet. And the essence to my curiosity is quite simply expressed in this quote by the founder of the online writing school called "Write of Passage", David Perell :
"... people systematically under-estimate the scale and interconnectedness of the Internet. I first discovered the idea in college, when I received my first job from Twitter and skipped college classes because learning on the Internet was faster and more enjoyable."

We're all hunters & gatherers in this forest of information. I am motivated to help you constantly gather some amazing stuff using some simple solutions, with compounding implications.
---
Try this
"All articles, essays, etc. you discover online shall never be consumed in the moment of discovery, but saved in a read later app like Pocket."
Browsing online is like going to the supermarket. You feel like buying everything, but you don't actually need a lot of it.
"No impulse purchases" should be a rule applied to anything we pay for in time, attention or money.
I've been using Pocket for 3 years now. So much that felt important in the moment & is saved, is deleted later when I open Pocket. So much I like doesn't even justify the effort of saving.
In his essay "The Secret Power of Read Later Apps", productivity guru, Tiago Forte, says: "...no matter how stringent I was in the original collecting, no matter how certain I was that this thing was worthwhile, I regularly eliminate 1/3 of my (Pocket) list before reading."
It's fascinating how a simple act of saving in Pocket, just allowing yourself a second thought, can dramatically improve the average quality of content you consume, and eventually your taste. You consume content that is more relevant to you in the long run. Besides, who wants to read a 1000 word article, when you're in the mood for short tweets.

…And obviously this consume later app will become to be your Personal Digital Library.
---
Think about this
The Paradox of Abundance
The average quality of information is getting worse and worse. But the best stuff is getting better and better. Markets of abundance are simultaneously bad for the median consumer but good for conscious consumers. (Follow David Perell on Twitter.)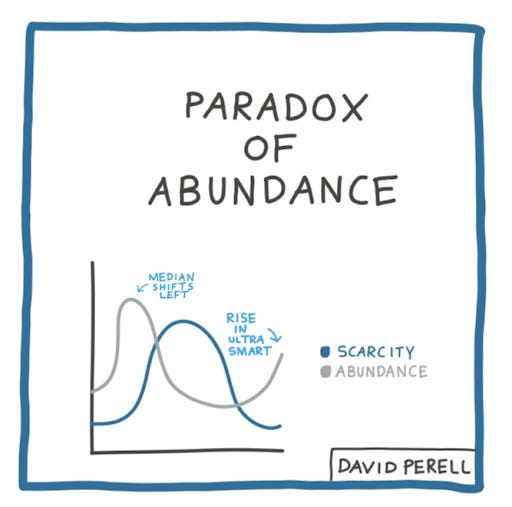 Hence, check out:
Age of Abundance: How the Content Explosion will Invert the Media Industry by Tal Shachar
"...the next evolution in the media value chain will be the rise of decentralized curation – with individual taste-makers building up mass followings and driving enormous consumption by recommending various articles, videos, shows, films, albums, exhibits and so on. While there's no way to effectively do this at scale today, the transition is long in development." (15 Min Read)
PS. Pocket works like an e-Reader for Articles, by letting you Highlight, keep track of your reading progress, etc. It allows you to read long essay like you would an e-Book. Without it, I can't imagine reading the long essays posted online.
---
Respond to this
What do you value more: the content recommended by algorithms or by people you're aware of(authors, artists, friends, etc.)? Now contrast this with what do you consume more: Content by algorithms or by People?
You may respond by replying to this E-Mail, or via WhatsApp.

I'll compile the responses and share the key insights in the next email.

---
Regards,
Abhishek
PS. Everywhere on the Internet as abhishek1point0.
PPS. For any thoughts, questions, or suggestions, you may directly reply to this E-Mail.