#2 Unsubscribe if this letter disappoints you. Embrace freewill in your learning!
Discovery on Twitter, how the Internet actually changed Education and the golden rule to making an inspiring Feed
Hey, Hunter-Gatherer!
Thank you for all the appreciation we received for our very first NewsLetter published last week. I am particularly excited about this one as it captures one of the key moments in my life. (mentioned in "Think About This").
In the last E-Mail, I asked: "What do you value more: Recommendations from People or Algorithms?" And everyone said the same thing:
I obviously value recommendations from People more, but end-up consuming way more content from Algorithmic Recommendations.
This E-Mail fixes that.
---
Try this
Discover all your content on Twitter but don't follow anyone, add them to Twitter Lists.
Why discover content almost exclusively on Twitter?
We've all been on NetFlix and be completely overwhelmed by the sheer volume of content, wondering what to watch next! And then you suddenly remember something an incisive friend of you said about a TV Show and your decision instantly collapses into one good choice. Now, you can casually sit back and watch that awesome show.
That something your friend shared, is exactly what interesting people often tweet about. They often share an idea from a blog, a mental model from a Podcast, often a series of Tweets capturing all the key ideas from a Book. What I love about this is I can just read these ideas and walk away knowing more. And now I always have more information before I decide to dive-in deeper.
Read a blog to decide if you wanna read a book. Read a tweet to decide if you wanna read a blog.
And this is essentially a short 280-character Tweet-of-Mouth, not some clever title or YouTube thumbnail designed to entice you. And all creators from all fields are on Twitter, coz everybody can tweet, not everyone can create a YouTube video or click great Instagram pictures.
Pro-Tip: You can directly share a tweet to a Read Later app (like Pocket), and it captures the link of the content.
Think of Al Algorithms & Marketing Pitch the same way: designed to feed. Interesting People nurture.
Using Twitter like a Pro
You'll follow a bunch of people and your feed will soon be a mess. Instead, add them to a Twitter List. Check out my Twitter lists of Philosophers, Artists, Design, Economics, etc. here. This is how my feed looks like now: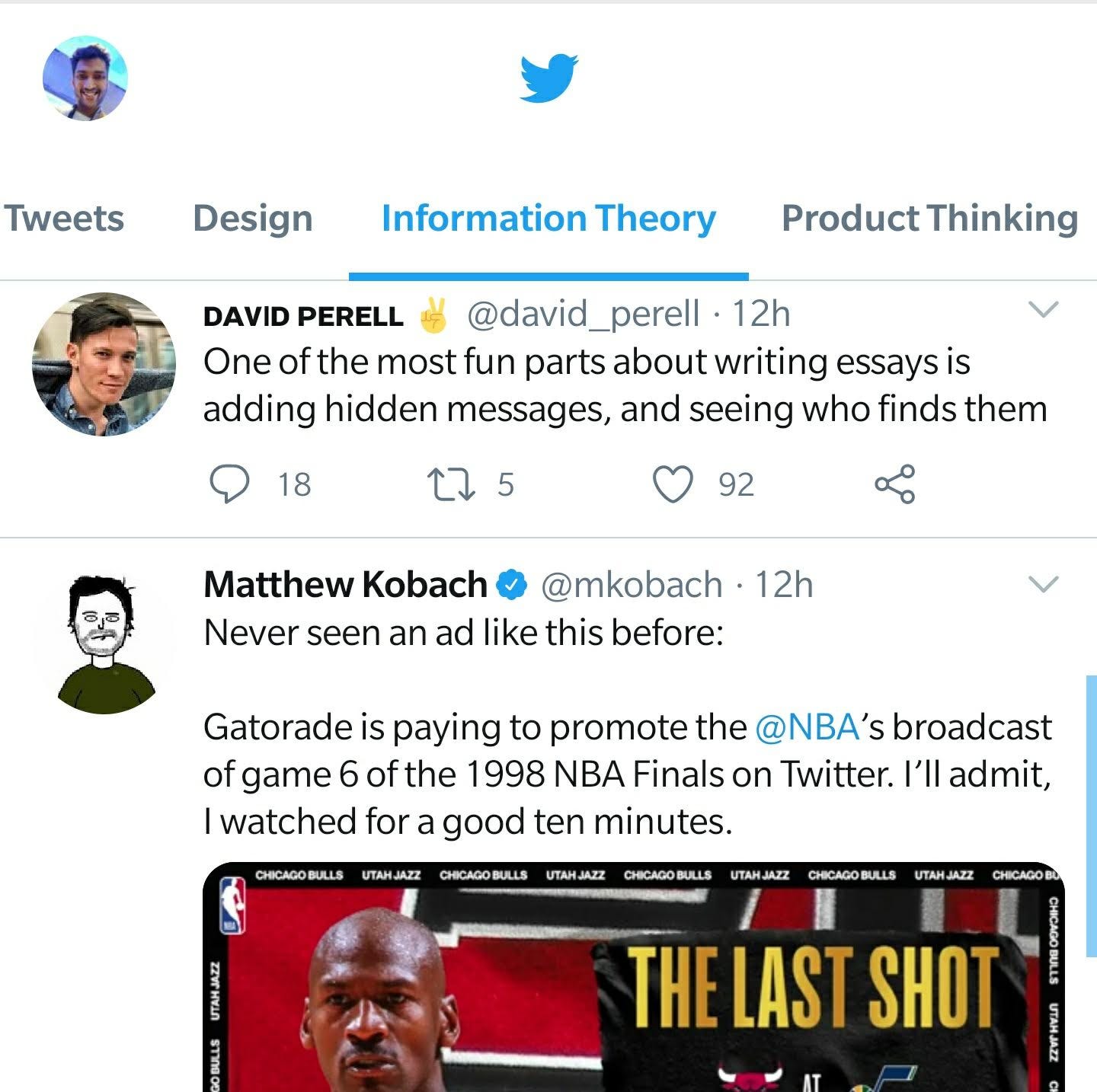 ---
Think about this
Online education will invert the learning process. In school, you start with the basics and expand towards curiosity. But on the Internet, you start with curiosity and expand towards the basics.
- David Perell
Most of you are convinced that almost anything can be learned online. But the difference is not merely a lecture delivered into an internet video. The difference is something much more fundamental.
On the internet, you exist without a curriculum, you exist on Humanity's Playground. You're free to move around, learning a little bit about everything. The more mindful you become on the Internet (that's what we're trying to help you with), the more you pierce through the mediocre & stumble into quality. And soon, you'll find yourself at an intersection of ideas you may dive deep into.
You read a 100 Tweets about many things. You read 20 blogs about some of them. You read a book about a few. And nobody obligated you to. You simply couldn't stop your curiosity from diving in.
Last week, I was reading about the Economics of Tears, and it changed how I understand our emotions. This is a snapshot of all the notes I have taken in the last few years. (Reply to know more of what this actually is & how it actually is all automatically created)
I decided what I want to do in my life, looking back at what I did on the Internet.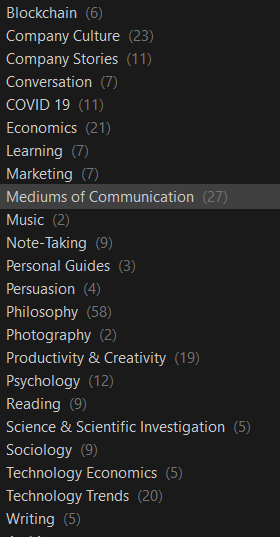 The snapshot you see is everything I have consumed in the past year or two. It's actually a small snippet of my notes app. It's my personal knowledge base that I learnt to build, manage and evolve with the help of Tiago Forte's online course "Building A Second Brain." His co-instructor David Perell runs a sequel to this course, "Write of Passage" to use BASB to Create like a Professional Knowledge Worker.
A revolution is silently happening. When I found out, I swore off all schools & universities.
The best teachers are on the Internet. The best books are on the Internet. The best peers are on the Internet. A generation of auto-didacts (self-learners), educated by the Internet & leveraged by technology, will eventually starve the industrial-education system.
- Naval Ravikant
I believe the two courses form the bedrock to all self-learning for decades to come. But don't take my word for it... Listen to them discuss how the Internet is revolutionizing Learning, Creating, the entire Economy, and everything else. This is the most complete piece of content, a real all you need to know, on this topic. Miss it at your own peril.
(Podcast Length: 2 Hours 11 Minutes)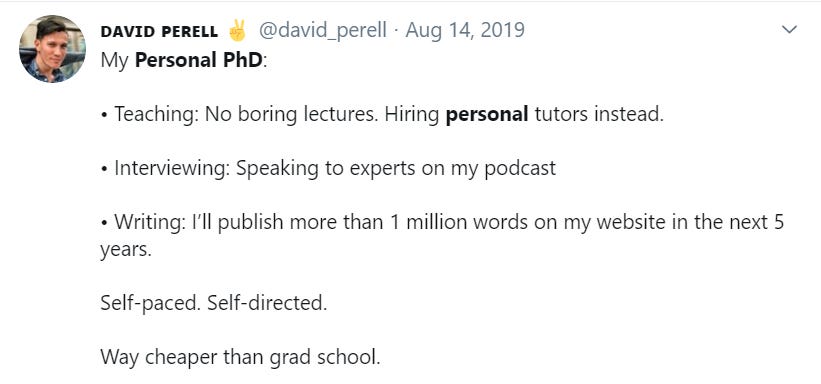 ---
Frame this
Block the outraged. Mute the Nitpickers/Attention Seekers. Like the kind. Follow the Insightful.
- Naval Ravikant
---
Respond to this
Does your social media feed inspire you or is more of an escape?
You may reply your thoughts to this E-Mail, or via WhatsApp. I'll compile the responses and share the key insights in the next email.
---
Regards,
Abhishek
PS. Everywhere on the Internet as abhishek1point0.
PPS. For any thoughts, questions, or suggestions, you may directly to this E-Mail.