#15 Internet re-imagining Scientific Research
The Fundamental Framework to manage Attention and Twitter saving Science!
Welcome to Hunter-Gatherer, a weekly newsletter where I give you one thing to try, to think about and a question to respond to nurture your relationship with the Internet. In an online-first world, we're all hunters & gatherers of information.
---
Hey, Hunter-Gatherer
I've some surreal news. My interaction with the content I discover online is getting deeper. I often summarize the core ideas and share on Twitter, and interact with the creators in questions, sent in tweets or emails, leading to gorgeous conversations. One of them even led me to write an essay. The quality of content I consume is high enough to always trigger ideas as I read them and infact this is a great indicator for how valuable a piece of content is to the consumer.
It should not be understated how a whole generation of self-learners on the Internet has come to create an alternative path to that of an Under-graduate→Post-Graduate→PhD.
As I often try to explain this path, it is easy to help one imagine learning a skill on the Internet. But it is difficult forming an image of what performing scientific research may look like. Today, I invite you to participate in this conversation in the Think About This section. Before that, I will give you a framework to manage your attention in the information age.
---
🛠Try this
Manage and take control of your attention using this simple framework.
In terms of how we come in contact with information, there are really 3 types of information:
Information that is pushed at you

Information that you pull towards you

Information that you create
(h/t: Tiago Forte)

When your phone buzzes and distracts your attention from whatever it is you're doing, information is being pushed at you. When you reach for your phone to see if you've any new E-Mail, you're pulling information towards you. It is with explicit intention that you pull out information, whereas information pushed at you forces itself into your attention. When you're on the Twitter feed, tweets are constantly being pushed at you by those you follow. When you open a Twitter profile to see what any particular creator has posted, you're pulling information towards yourself.
Now, let's see a simple example of how this framework can help you manage your attention:
When your phone buzzes your ears, it gets you to immediately act. Here, I want to make the argument that turning off push notifications, say for your chat messages, should be the default as most messages we recieve don't necessitate an immediate action (a reply).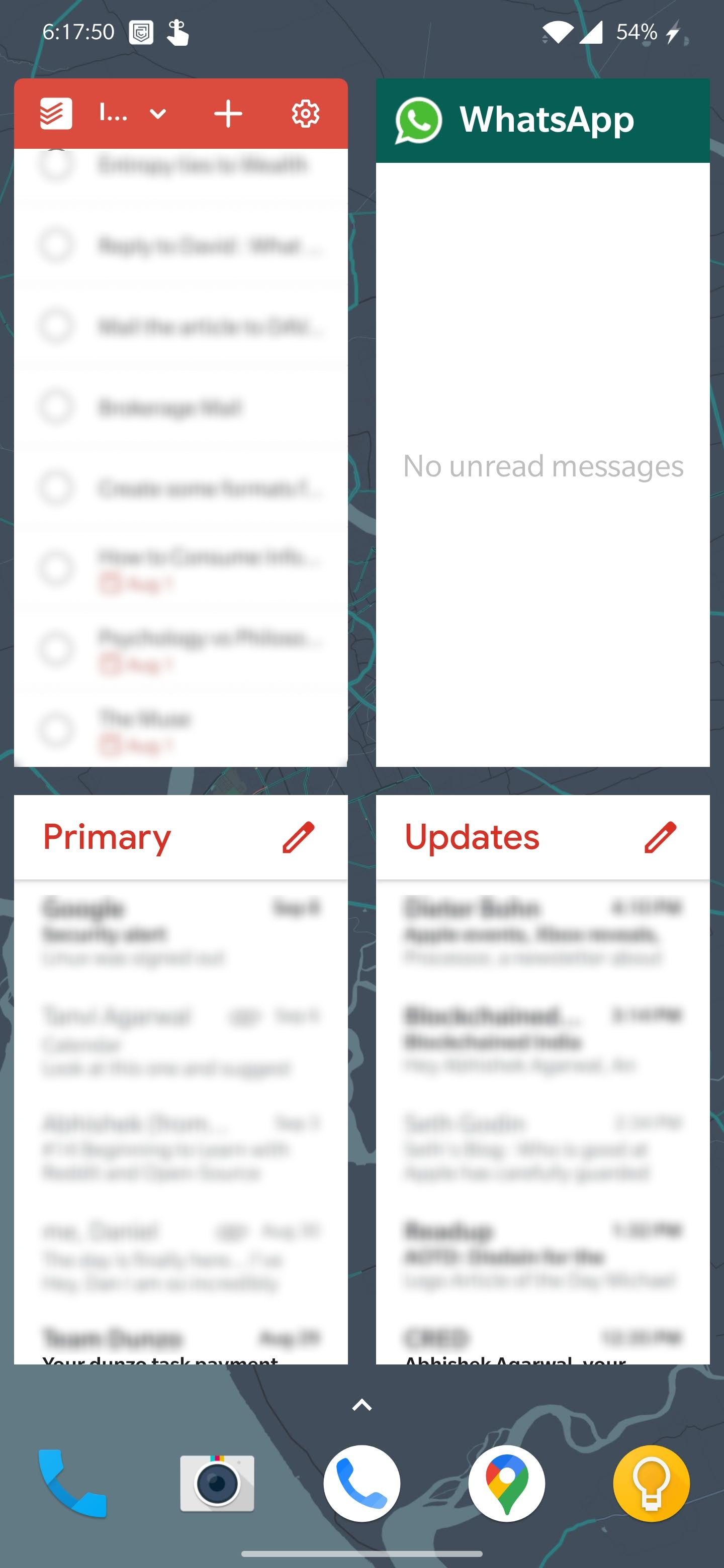 Turn off push notifications and switch to widgets on the home screen. Every time you pick your phone, you can swipe over to widgets to pull-out information i.e. New Messages. Widgets allow you to pull information in the most effortless way. If you're on iPhone, I must inform you that home screen widgets is a major update on the new version of iOS.
As we learn to manage our attention in the information age, we can think about when information comes in contact with us with this simple framework*. The when for any information to reach you should depend on your own definition of urgency. For me, it is simply: "When does a piece of information require me to act?"
Every time I receive a notification I don't absolutely need, I turn it off to never receive a similar one again. Every time I receive a notification I need, I look for a widget to deliver that info in the future. It is after making this setup, that my phone went from being a distraction device to (again) being only useful.
*I've further developed this framework into what I call the W.A.R.S. Framework which is universal to how all Notifications systems should be designed.
---
💡Think about this
My Personal PhD:
• Teaching: No boring lectures. Hiring personal tutors instead.
• Interviewing: Speaking to experts on my podcast
• Writing: I'll publish more than 1 million words on my website in the next 5 years.

Self-paced. Self-directed. Way cheaper than grad school.
Perell tweeted it a year ago and thousands of people have seen his knowledge grow through the content he publishes. After reading it, I was immediately curious about how research can be re-imagined and today I've 2 essays from two writers with experience in research.
Re-imagining PhD by Nadia Egbal
Nadia talks about how she built an audience for her ideas and research question, secured funding for research, and a community for peer review. If you're not explicitly into research, you can directly jump to the last section of the essay to think about the broader implications of this new approach. I will be waiting to hear your thoughts.**
Can Twitter save science? by Alex Danco
In it, he talks about how zero-sum status games are plaguing scientific institutions and general progress and how Twitter is proving to be a viable solution. He further continues this conversation in his essay, Let's just get rid of peer review. I invite you to participate in what this implies for knowledge exchange on social media.
---
❓Reply to this
How would you describe your learning online?
As for me, apart from Twitter and Forums, I have subcribed to newsletters from people like David Perell, Zat Rana, etc. who absolutely align with my curiosity. I call them my intellectual companions and are always leading me to content I myself am curious about and have a newsletter I usually reply to. Whenever I have a question, I simply ask them and usually get an answer, an essay or book in reply. Finally, my weekly newsletters and essays will serve as a mirror to my knowledge.
You may reply to this E-Mail, or via WhatsApp.
---
Pheww... That was a Lot!
---
Regards,
Abhishek
Twitter | Blog | Instagram | WhatsApp
PS. For any thoughts, questions, or criticisms, you may directly reply to this E-Mail.